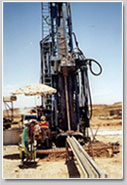 Busy executives do not have the time to research all the possible factors that surround their new projects. New market competitors, supply-demand forecasts, and technological advances on the horizon may impact on your plans.

Our research is tailored to meet the demands of your project. Wide ranging experience and over 30 years in the industry ensure a comprehensive study. Our rates are reasonable and we offer a free evaluation service of your requirements.

A typical study set out a development plan for a high purity silica sand deposit in Africa including suitability for all uses, energy and infrastructure availability and costs, local and global competition including product types, major consumers and producers, transport costs, and SWOT analysis of the project and its competitors.

Other commisions have focussed on the markets for specific commodities such as tantalum in which Mining Research has been involved in two major projects in Saudi Arabia and Brazil. Smaller commissions are equally as welcome. We maintain a high confidentiality policy.


Click here for for a full list of completed commissions